High Resolution Gradient Chambers for Live Imaging

To study chemotaxis or cell migration during development. This is a complete system to form stable gradients inside glass bottom dishes, or any other chamber. The gradient remains unchanged for the duration of your experiment. The system allows you to control the width of the gradient, and to introduce test compounds (inhibitors, for example; miniature perfusion system is required) without disturbing the gradient. Comes with closed system to create a controlled environment around your sample. Includes small volume delivery system. Includes a microscope adapter. Can be also used as a perfusion chamber for high resolution live imaging. Multiple gradients can be formed in the same chamber or multi-well plate to differentiate cells in the same preparation at the same time, using our computerized workstations. Click on image to see cell tracks during chemotaxis (8 hour incubation).

Click on catalog numbers below to purchase online.



Download PDF catalog.

Below are cell tracks obtained during chemotaxis (8 hours incubation).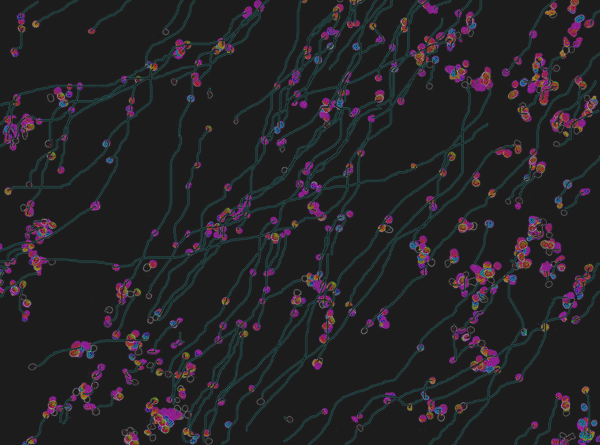 ---
Bioscience Tools
ph: 877-853-9755, fax: 866-533-7490
ph/fax: 1-619-793-4467 (from outside USA)
fax: 866-533-7490
email: info@biosciencetools.com


PRICES AND OPTIONS

$7,950

High Resolution Gradient system for Live Imaging