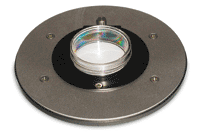 Microscope Adapters, stainless steel

A microscope stage adapter to provide flexible working area for positioning accessories required for high resolution live sample imaging: from media exchange and test solution delivery tubing, to sensors and electrodes. Specially treated stainless magnetic surface of the adapter provides ideal means to mount miniature adjustable magnetic holders. Adapters for all brands of microscopes, including motorized stages, are available. Incorporates adjustable clamp to fix all brands of 35mm petri dishes and chambers, glass bottom dishes (both 35 and 50mm), and heating stages. Choose the size appropriate for your microscope. Click on image to enlarge.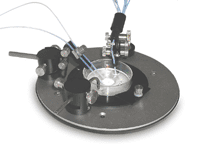 Adjustable Magnetic Holders Set

Simplified set of three miniature magnetic holders to configure solution exchange lines, electrodes, sensors, and even glass micropipettes around your sample. Includes adjustable stainless steel suction tubing for perfusion chambers, adjustable holder with miniature ball-joint to fix inflow tubing and manifolds of solution application systems, and a double clamp to fix tubing, sensors, electrodes or glass pipettes. The miniature holders were designed not to obstruct optical path. Click on image to enlarge.



Sample publication.




Adapter Specifications:

Inside opening:

50mm

Reducing ring and clamp:

to fit all brands of 35mm dishes

Use with:

35mm dishes (including glass bottom dishes), chambers, 50mm glass bottom dishes, and heating stages.


Click on catalog numbers below to purchase online.

Optional accessories: bath chambers, miniature holders, heating stages, perfusion system, flow control.

Download PDF catalog.
---
Bioscience Tools
ph: 877-853-9755, fax: 866-533-7490
ph/fax: 1-619-793-4467 (from outside USA)
fax: 866-533-7490
email: info@biosciencetools.com


PRICES AND OPTIONS

$195

Miniature Magnetic Holders Set

$150

Microscope Adapter, stainless steel, for Olympus microscopes, 110mm

$150

Microscope Adapter, stainless steel, for Nikon microscopes, 108mm

$150

Microscope Adapter, stainless steel, for Zeiss type K stages, 160x110mm

$150

Microscope Adapter, stainless steel, for Leica microscopes and Zeiss type M stages

$150

Microscope Adapter, stainless steel, for motorized stages

$150

Microscope adapter, stainless steel, 128x86mm

$150

Microscope Adapter, stainless steel, for Leica, 150x150mm

$150

Microscope Adapter, stainless steel, for SISKIYOU stages, 108mm

$150

Microscope Adapter, stainless steel, for Burleigh Gibraltar stages, 108mm

$150

Microscope Adapter, stainless steel, for Burleigh Gibraltar stages, 110mm

$150

Microscope Adapter, stainless steel, for Narishige stages, 110mm

$150

Microscope Adapter, stainless steel, for Applied Precision stages, 110mm