Miniature Perfusion Cooler/Heater unit

Controls temperature of perfusion solutions in the range from 0 to 100°C. A small heating/cooling element is designed to mount on a manipulator next to your sample to provide fast temperature changes by streaming the solution directly onto the sample. Monitoring and control temperature by data acquisition systems through BNC connectors on the back panel. Set temperature either manually or using your data acquisition interface, to generate ramps, for example. Optimized for patch clamp applications: no electrical noise. Click on image to enlarge. See sample publications.

Below is an example of fast temperature change inside a petri dish. Experimental conditions: TC-RD system was set at 0°C; the petri dish was set at 30°C using another TC-1 controller and TC-PCP heating stage; two flow control CFPS-1U66 units were used - one for solution suction from the dish, through PDI insert inside the dish; and another CFPS-1U66 to cool heat sink of TC-RD unit; the third CFPS-1U unit was used to perfuse the dish; a slow temperature sensor was used to simulate temperature change in the whole dish; the actual temperature change in the point of solution application is much faster.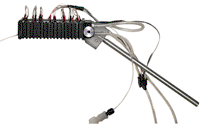 Specifications:

Dimensions:

1 x 2 x 4in (without mounting 7mm rod)

Stability:

0.1°C, built-in sensor

Sink:

optional water cooling for very low temperatures

Perfusion:

Removable PTFE tubing; easy to wash


Click on catalog numbers below to purchase online.

Required accessories: economy or 2-channel temperature controller.

Optional accessories: sink cooling.

Download PDF manual.

Download PDF catalog.