Controlled Flow Perfusion System, CFPS-2

This is a 2-channel perfusion system for precise linear control of solution flow rate over the range from 8 Ál/min to 7.3 ml/min (or choose upgrades below for different flow rates). Precision design and miniature size minimize pulsations to provide smooth perfusion. Designed for stable solution flow or substance application during imaging, recording, calcium and other ions measurement, biochemical assays or small organs and animals perfusion. Used with small chambers in lab-on-chip setups, imaging and recording workstations, and to perfuse small organs and animals in micro-perfusion setups.

Ten-turn dials and analog inputs allow you to calibrate each channel independently and to apply one or multiple substances by switching channels manually or through data acquisition and imaging software. You can accurately mix different solutions or generate dose-response curves using only two solutions: control and concentrated test compound. You can even generate concentration gradients in time to simulate substance distribution in time, and concentration gradients throughout the space of small chambers to assess chemotaxis (an optional mixing chamber is required for concentration gradient in space).

Each channel can be controlled manually, by analog signal, TTL or through RS232 connection for fully automated setups controlled through third party software packages, imaging for example (optional USB adapters are also available). Up to 10 systems can be connected in a chain through RS232 ports.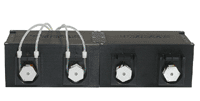 The system can be upgraded to operate up to 8 channels in parallel: each additional channel is controlled by analog signal, and also have a preset flow rate to turn ON/OFF by TTL or through RS232. Can be connected to solution switching miniature systems for changing and mixing more than 2 solutions in sequence. The optional luer-lock manifolds will combine multiple solutions into a single output. Includes a power supply (can be also powered by batteries through an optional battery connection cable). The size of the 2-channel system is 4x2.5x1.85 in (separate from the controller). Multiple systems cad be attached to each other to form a multi-channel system. Includes 1 ft. mounting rod and X-block to attach a standard 0.5in. posts. Comes with a set of tubing for different flow ranges: 0.015" I.D. - 8-170 Ál/min; 0.020" I.D. - 20-340 Ál/min; 0.031" I.D. - 50-920 Ál/min; 0.062" I.D. - 170-3400 Ál/min; 0.093" I.D. -370-7300 Ál/min; dual 0.015" I.D. x2 8-170 Ál/min (for different ranges select upgrades below). Click on image to enlarge.


Specifications:

Flow control:

manual dial, analog signal (-5 - +5V), software control through RS232/USB port, reverse direction

Dimensions:

4x2.5x1.85 in.

Power:

110/230VAC power supply or battery

Mounting:

0.5in. 1 ft. rod and x-block

Fitting:

barbed luer-locks

Tubing:

0.015in. I.D.; double 0.015in. I.D.; 0.020in. I.D.; 0.031in I.D.; 0.062in. I.D.; 0.093in. I.D.
Flow rates:

Model/Upgrade

CFPS-10K

CFPS-900

CFPS-2

CFPS-66

Tubing I.D.

0.015in.

0.34-6.7 Ál/min

4-80 Ál/min

8-170 Ál/min

0.03-0.6 ml/min

0.20in.

0.59-12 Ál/min

7-140 Ál/min

20-340 Ál/min

0.05-1.0 ml/min

0.031in.

1.6-34 Ál/min

20-400 Ál/min

50-920 Ál/min

0.15-3.0 ml/min

0.062in.

6.7-145 Ál/min

80-1,700 Ál/min

170-3400 Ál/min

0.5-10 ml/min

0.093in.

13.5-275 Ál/min

0.16-3.3 ml/min

370-7300 Ál/min

1.1-22 ml/min


Optional accessories: perfusion system.

Download PDF manual.

Download PDF catalog.
PRICES AND OPTIONS

$3,255

Controlled Flow Perfusion System

$470

Upgrade for flow rates 0.34-275 Ál/min.

$100

Upgrade for flow rates 4-3300 Ál/min.

$470

Upgrade for flow rates 30-22000 Ál/min.

$1,585

Additional 2-Channel upgrade. Adds another two independent channels. Independent flow control by analog signals. Can be also turned ON/OFF by TTL or/and RS232 connection to provide a preset flow rates. Attached together to another box, forms a single unit. Can be mounted horizontally, vertically or simply left on the desktop. Includes mounting hardware. Tubing is not included.

$6,300

2-Channel Flow Control and 8-Channel Switching System