16-Channel Valve Controller with programmable timers and channel sequences for precise timing during manual operation

Computerized controller for pinch and fast solenoid valves with wireless remote control. To make a functional system add valves below. Syringe holders and tubing are required. Sample publications: 16, 15, 14, 13, 12, 11, 6, 7, 8, 9, 1, 2, 3, 4, 5

AUTO Memory
The 16-channel controller can operate in Auto Memory mode for precise timing of individual valves or sequences even during manual control. This is useful for automatic switching of channels in sequence including automatic "wash" between channels in sequence.

Digital input
Optically isolated inputs for each channel. BNC connector for TTL inputs and DB-9 connector.

CODE Mode
The controller has an options for valves control by channel encoding using only 2-4 digital inputs, in case if a limited number of digital outputs is available in your system.

Analog Input
You can also use analog signal input to switch the channels by changing the voltage (0.5V increment).

USB/RS232 Input
The RS232 port allows automation of solution switching and integration with imaging systems.

Analog Out
Analog output to switch outflow automatically, or to use as a mark on your recordings ( telegraph output).

INHIBIT Mode
Closes valves regardless of input.

DIMENSIONS
Size: 2.7 x 12 x 9in. Includes 120/220VAC external power supply.

The 16-channel controller is included with every perfusion system. The controller opens valves through manual switches, wireless remote or by TTL signals generated by a computer or other equipment. Other control options include: open valves by analog signal, and through RS232 port (or USB connection). Compatible with data acquisition and imaging systems. Optional software to generate solution switching sequences to automate complex routine protocols is available. Incorporates INHIBIT mode: to CLOSE channels simultaneously, and CODE mode: to operate by limited number of digital INPUT signals.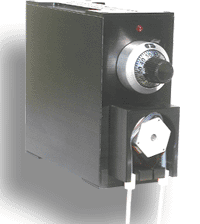 The analog output can be used to turn OUTFLOW automatically

Shown is a miniature flow control unit, which can drive solution up to 22ml/min. Specify analog option CFPS-1U-A for automatic outflow when perfusion is turned ON. Click on image to enlarge.




Combined with valves below, the controller makes a simple perfusion systems.


Specifications (controller):

Channels:

16

Output:

x2 DB-9 connectors, max 5A per channel, 12VDC standard (up to 35V)

Controls:

Optically isolated digital, TTL, Analog input, RS232 software command

Manual Overdrive:

Manual touch-pad switches, override electronical inputs, wireless remote

Remote control:

Wireless

Auto Memory:

precise timers from 1ms to more than 100hours. Automatically performs preset channels sequences

Code mode:

Use only 4 TTL inputs to encode all channels

Close mode:

Inhibits all outputs to the valves, manual and electronical inputs

Analog outputs:

To switch outflow units CFPS-1U and telegraph output

Programmable timers:

1ms accuracy, stored in memory (for each channel)

Dimensions:

2.5 x 12 x 9 in.

Power:

120/240 VAC external power supply


Click on catalog numbers below to purchase online.

Required accessories: valves (see below).

Optional accessories: perfusion accessories, flow control.

Download PDF manual.

Download PDF catalog.
---
Bioscience Tools
ph: 877-853-9755, fax: 866-533-7490
ph/fax: 1-619-793-4467 (from outside USA)
fax: 866-533-7490
email: info@biosciencetools.com


PRICES AND OPTIONS

$695

16-Channel Valve Controller, requires a power supply

$95

External 120/240VAC Power Supply, 12V suitable for fast 1.5ms valves

$95

External 120/240VAC Power Supply, 24V required for pinch valves

$1,595

Fast 1.5ms valves, mounted in aluminum box. PTFE barbed valves are placed in 5.35L x 2.5W x 1H in. aluminum box. Combined with PC-16 controller, makes a basic system. The 16-channel controller can operate two 8-valve assemblies. Includes 8-channel manifold. Includes two mounting rods with X-blocks to mount on standard 0.5 in. posts or syringe holders. Valves response time is 1.5 ms. Since valves are inside the metal box and are connected to the controller through shielded cables, there is not electrical noise during switching. Require SH-1A syringe holder, tubing and fitting.

$95

Empty box to mount fast replacement 1.5ms valves.

$175

Replacement 1.5ms valve.

$395

Pinch valves, set of 8, mounted inside an aluminum box to use with perfusion systems. Combined with PC-16 controller, makes a basic system. The 16-channel controller can operate two 8-valve assemblies. Includes pinch tubing 1/8in. O.D., all fitting, and 8-channel manifold. Includes X-blocks to mount on standard 0.5 in. posts or syringe holders. Require SH-1A syringe holder, tubing and fitting.

$95

USB Adapter. Converts your computer USB ports into RS232 ports. Includes cables and software drivers.

$95

Cable to connect to PC-16 controller. Allows you to switch channels of PC-16 valve controller by programming other controllers, CFPS-U2 controllers for example. Use your software and the same computer port to expend your setup. By switching additional tubing lines you can add different solutions to your sample through the same flow control unit. Plugs to DB-9 connectors on the back of the controllers. Two feet long. Longer cables are available. Note: cannot be used with CFPS-C8 controller.

$195

Cable to connect valve controllers to imaging systems. A custom cable to fit your imaging system. Used with imaging software to control perfusion systems for automatic liquid handling and test solution applications. Specify imaging package used or define required connectors.