High Performance 16-Channel Perfusion System with programmable timers and channel sequences for precise timing during manual operation
Specifications:

Response time:

1.5ms

Manifold:

two 8-channel, each can be reduced down to 1-channel

Height:

up to 3ft. adjustable, for gravity driven solution flow

Pressure/Flow Control:

15 PSI adjustable, for micro-volume delivery

Solution cylinders:

60ml x16

Pressure cylinders:

10ml x8, 50ml x8

Gas adapter:

to saturate solutions with gas mixture (requires CO2 controller)

micro-Manifold:

8-channel, 360, 250 and 100 micron outflow tips included, PTFE connecting tubing 2ft. per channel

Small volume delivery system:

8-channel, PTFE connecting tubing 2ft. per channel, ferrule-type fitting to polyethylene tubing

Outflow unit:

22ml/min, provides suction for bath chambers and washout

Tubing:

100ft. polyethylene tubing, fits valves and perfusion manifold directly;
50ft. Tygon tubing, fits provided barbed luer-locks

Fitting:

barbed luer-locks and ferrule-type to connect to solution cylinders and between Tygon & polyethylene tubing

Anti-vibration mounting:

a. 1x1 ft. stand,
b. magnetic stand,
c. M8 threaded surfaces
This system is used to change solution in the bath around your sample, or to apply test compounds locally using miniature manifolds. Switch solution valves are placed in 125mm L x 50mm W x 15mm H aluminum box. Included 1 ft. and X-blocks attach the valves to the included vibration-free syringe holder or to a regular 0.5 in. stand. This allows you to position valves near the sample over a microscope stage to minimize the dead volume inside tubing. Comes with tubing, and manifolds. Includes easy disconnect fitting for tubing and included syringes.

Comes with a 16-channel controller. The controller opens valves through
manual buttons
wireless remote control
optically isolated digital or TTL signals generated by a computer or other equipment
analog signal
RS232 port (or USB connection) for software control
Compatible with data acquisition and imaging systems. Includes laptop computer with installed software to generate solution switching sequences to automate complex routine protocols. Since valves are inside the metal box and are connected to the controller through shielded cables, there is no electrical noise during switching.


The included unique syringe holder provides vibration-free operation and includes both a stand and a small magnetic base. The magnetic base does not take a lot of space from your set-up, but allows to position perfusion solutions near your sample. The post consists of 0.5 in. O.D., 1 foot long aluminum parts and can be extended to 3 feet high. An 1.5 in. flowerette head screw will fix the syringes on the post, making a traditional syringe holder. Comes with 60ml syringes, stop-cocks, and fitting. The holder can be also mounted on threaded M6, M8 or 1/4-20 surfaces.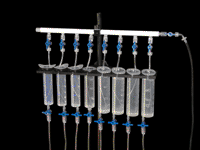 Includes Gas Mixture Delivery Adapter

Adapter for syringe holders to connect to a gas source to saturate/bubble solutions during experiments (CO2 saturation or oxygenation, for example.) Comes with X-block to fit 0.5 in. posts. Includes 9 stop-cocks and plugs to close unused channels or the common inlet. Includes thin tubing with luer fitting to connect to stop-cocks to form bubbles inside the solutions. Can be also used to pressurize solutions by connecting to pressure cylinders PC. Can be connected to another adapter to use the same source of gas mixture/pressure. Click on image to enlarge.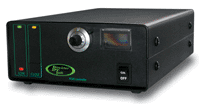 Includes Pressure controller

For use with small volume delivery systems, pressure cylinders and solution switches. Generates pressure up to 20PSI (does not require an external source of pressure). The controller regulates output pressure to provide defined solution flow through sample chambers, microfluidics chips for example. Prevents flow blockage by bubbles inside solutions. If connected to a solution switch, the controller starts automatically every time perfusion is ON. Simple to use. This is an advanced alternative to syringe pumps (easy solution refill and unlimited volume). Click on image to enlarge. Download PDF manual.


Specifications:

Output:

max pressure 20PSI

Vacuum:

optional modifications to use as a source of regulated vacuum;

Connectors:

Easy-connect, 1/16in. O.D. tubing - output

Indicators:

PRESSURE digital indicator, output LOW, output CLOSE

Controls:

CLOSE manual switch,

CLOSE TTL input (+5V to start),

OUTPUT PRESSURE settings,

MANUAL dial to SET pressure,

EXTERNAL input to SET pressure,

MONITOR pressure - analog output

Dimensions:

6 x 2.5 x 9in.

Power:

Includes external 120/230VAC power supply
Includes Cylinder to pressurize/oxygenate solutions, set of 16 (10ml x 8 and 50ml x 8)

A set of autoclavable cylinders to pressurize your solutions. Can be used to drive solutions through 100 micron tip of MM manifold, for example. Can be also used to saturate solutions with gases (bubbling) by feeding a thin tubing inside the cylinder, or to degas solutions by applying vacuum. Can be used with syringe heaters SYR-T8. Comes with stop-cocks and fitting for 1/16 in. I.D. tubing. Includes 3-way valves to connect to a pressure source, to release the pressure, to refill the cylinder, or to connect to a source of gas mixture (oxigenation, for example). Comes with threaded covers for easy refill. Material: polypropylene. Large (up to 650ml) volumes are available upon request. Cylinders with built-in 10, 25 or 40 micron filters are also available. Volumes up to 100ml fit inside SH-1A syringe holders. Click on image to enlarge.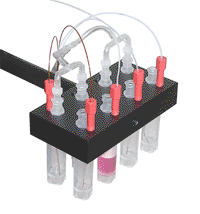 Includes pressurized Small Volume Delivery System SVDS1

For use with lab-on-chips, intracellular perfusion and small chambers. Solutions are either withdrawn using controlled flow systems or pushed by pressure.

The majority of available perfusion systems have long lines of tubing, which have to be filled before conducting experiments. However, sometimes applied substances are available only in limited quantities or are extremely expensive, prohibiting the usage of conventional perfusion systems. This system utilizes small plastic tubes with conical bottom and thin PTFE tubing to connect to your system. It can be used with as little as 100 Ál volumes of solution. Tubes with solutions are simply threaded into the holder. Solutions are easy to refill during the experiment. Can be used with miniature manifolds. Uses pressure source built-inside the controller to deliver the solutions, unless the solutions are withdrawn by a negative pressure like in controlled flow system or intracellular perfusion setup. The system comes with all necessary tubing and fitting to connect to a single pressure source. The small size of 91 x 48 x 17 mm (without tubing attached) allows to position solutions near your sample. Can be attached to a 1 ft. rod (included). Comes with X-block to attach onto a standard 0.5 in. stand. The body has 6.5 mm I.D. opening, which allows to mount the system on a micromanipulator. Includes 16 plastic replaceable tubes (2 and 3.5ml). Click on image to enlarge.


Includes Miniature Manifold for Single Cell Superfusion

Miniature manifolds are used to achieve fast solution application to small samples (single cells, for example). Due to the small size of the sample, solution exchange around the sample can happen in as fast as few ms. The miniature manifolds also offer advantage of not contaminating the whole bath chamber, but applying the substances locally (provided that perfusion chamber is used with frequent wash). Comes with three replaceable threaded tips of 360, 250 and 100 micron I.D. Incorporates 2 ft. long PTFE tubing for direct connection to perfusion systems. Inside tubing is easy to wash. The threaded replaceable tips are washable and allow one to use the manifold with solutions under higher pressure. The length of tips is around 1 in., which can be cut to the required length. Incorporates 10cm long 4mm O.D. rod to mount on miniature manipulators and 7mm O.D. adapter to mount on regular manipulators. Incorporates eight separate channels. If used with less number of solutions, multiple channels are filled with the same solution, which accelerates washout and delivery. Includes two nozzles to use with small volume chambers as a regular manifold (the rod fits inside magnetic holders MTH). Click on image to enlarge.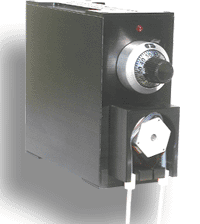 Includes Flow Control Unit, 30Ál/min to 22 ml/min

Comes with a set of tubing for different flow ranges up to 22 ml/min. Includes a DC power supply. This high flow rate unit can be used for solution suction/aspiration from open perfusion chambers. The unit is configured as an analog option for automatic outflow when perfusion is turned ON. Click on image to enlarge.


16-channel valve controller
The included 16-channel controller can operate in AUTO Memory mode, to program timers and channels sequences for precise timing during manual operation;

INHIBIT mode with manual and external controls allows you to switch all channels OFF at once, if required.

The controller has an option for valves control by Binary Encoding using only 2-4 digital inputs, in case if a limited number of digital outputs are available in your system. The RS232 port allows automation of solution switching and integration with imaging systems.

ANALOG output can be configured to monitor channel switching during manual operation. By default, ANALOG output is used to switch an outflow unit ON automatically every time perfusion is ON.

Ships with automation software installed on a laptop computer.

Comes with an external 120/220V power supply. Click on image to enlarge.


Specifications (controller):

Channels:

16

Controls:

optically isolated digital signals and TTL, Analog input, RS232 software command

Manual Overdrive:

Manual switches, override electronical inputs

Remote control:

Wireless

Auto Memory:

To program timers and channels sequences for precise timing during manual operation

Code mode:

Use only 4 TTL inputs to encode all channels

Close mode:

Inhibits all outputs to the valves, manual and electronical inputs

Analog outputs:

To switch outflow units CFPS-1U and for telegraph output

Custom modifications:

Additional features can be added or modified on request

Dimensions:

2.5 x 12 x 9 in.

Power:

120/240 VAC external power supply


Click on catalog numbers below to purchase online.

Download PDF manual.

Download PDF catalog.
---
Bioscience Tools
ph: 877-853-9755, fax: 866-533-7490
ph/fax: 1-619-793-4467 (from outside USA)
fax: 866-533-7490
email: info@biosciencetools.com


PRICES AND OPTIONS

$6,995

High Performance 16-Channel Fast Miniature Perfusion System.

DELL-UP

QUOTE?

Computer upgrade desktop/laptop. Replaces the economy computer in the system above, ships with software installed.

$1,995

Complete 4-Channel Fast Miniature Perfusion System

$1,395

Complete 8-Channel Pinch Valves Perfusion System. Includes basic 16-channel controller, pinch valves, SH-1A syringe holder, manifold, tubing and fitting.

$2,645

Complete 8-Channel Fast Miniature Perfusion System. Includes basic 16-channel controller, fast 1.5ms valves, SH-1A syringe holder, manifold, tubing and fitting.