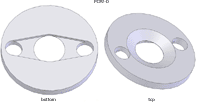 Petri dish insert PDI with 50 self-adhesive gaskets.

The reusable insert converts a regular Petri dish into a perfusion chamber. The biocompatible gasket forms airtight and leak-proof contact with the bottom surface of the dish, even if the dish is filled with media or has an uneven surface. This effectively prevents contamination of perfusion solution with residual solution leaking from the gap between the insert and the bottom of the dish. The insert has a small working volume chamber: conical opening with 11 mm I.D. on the bottom and 19 mm on the top, and two separate openings for solution inflow and outflow to prevent bubbles from entering the working compartment. The laminar profile facilitates perfusion and provides faster solution exchange. Can be used in combination with FLOW-PETRI cover for 35mm Petri dishes Can be used with multi-well plates and 50mm glass bottom dishes. The low 3 mm profile allows you to use upright microscopes and water immersion objectives as well. Click on image to enlarge. 3-D Model.

See published sample recordings, and sample publications: 8, 7, 6, 1, 2, 3, 4, 5.


Specifications:

Outside diameter:

35mm

Height:

3mm

Working volume:

11mm diameter, approx. 100 microl


Click on catalog numbers below to purchase online.

Required accessories: microscope adapter, miniature tubing holders.

Optional accessories: perfusion system, temperature control, flow control.

Download PDF manual.

Download PDF catalog.